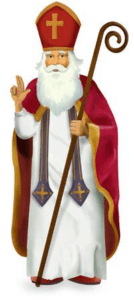 Saint Nicholas's Workshop Details and registration form for our little people attending
Saint Nicholas's Workshop Teen Release form
Spirit of St. Nicholas Award nomination guidelines and form 2023
Mission Statement – With the acceptance and support of all members of Our Lady of the Assumption Parish in Latham, New York, our youth ministries will strive to reach out and encourage youth to develop opportunities for active growth within our Catholic faith community. Walking together, in faith and friendship, we will participate in service which reflects the mission of Jesus and enhances our love of God and neighbor. While appreciating each other, our youth will be invited to enjoy both greater responsibility and the fun that a life of faith can bring.
Core Team – Youth and Adult members meet once a month to plan activities based on the eight components of the Catholic Comprehensive Youth Ministry. Sub teams meet when needed to plan and execute activities as proposed by the Core Team.
Youth and Adults are invited to be active and involved in all activities!
Pancake Breakfast Photos – 2022

For more information, please call:
Rosemary Gavin
Pastoral Associate for Youth Ministry
785-1605 ext. 108
Email – youthola@olalatham.org