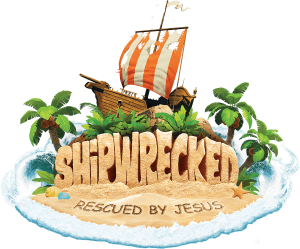 Shipwrecked – Rescued by Jesus!
Join us July 23-27, 2018, 8:45am-12noon.
At Shipwrecked VBS, kids discover how Jesus rescues us through life's storms. Shipwrecked is filled with incredible Bible-learning experiences kids see, hear, touch, and even taste! Sciency-Fun Gizmos™, team-building games, cool Bible songs, and tasty treats are just a few of the standout activities that help faith flow into real life. Plus, we'll help kids discover how to see evidence of God in everyday life—something we call God Sightings. Get ready to hear that phrase a lot!
Registrations for children and teens are available in the Gathering Space or may be downloaded by selecting the link below. Deadline to register a camper is June 29, 2018! Don't miss out!
Click here for the Camper Registration.
Teens interested in joining our team must be entering 7th grade and need to complete the following three forms:
All six pages need to be submitted. Printed packets are available in the Gathering Space at Church. All teen forms are due to the Faith Formation Office by JUNE 1, 2018!
Teen Checklist
Teen Application and Parent Release Form (Requires parent signature) (3 pages)
Youth Code of Conduct (Requires parent signature) (2 pages)